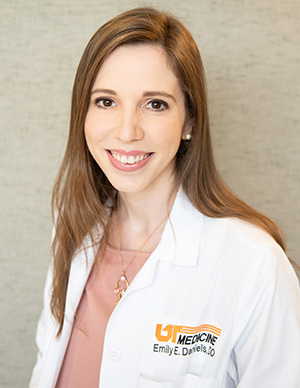 Dr. Daniels completed her residency in Internal Medicine at the University of Tennessee Graduate School of Medicine in 2022 where she served as chief resident in primary care and won the Rawson Award for excellence in teaching and clinical skills.
She graduated from Lincoln Memorial University – DeBusk College of Osteopathic Medicine in Harrogate, TN in 2019. Prior to this she earned a Bachelor of Science in Biology Cum Laude in 2015 from LMU in Harrogate, TN.
Her professional interests include preventive medicine, hematology/oncology, and women's care. She enjoys gardening, hiking, cooking with her husband, and photography.