Faculty Internal Medicine, PLLC, is proud to be a community-based Internal Medicine private practice in Knoxville, Tennessee. Our physicians have admitting privileges at the University of Tennessee Medical Center in addition to an academic appointment with the University of Tennessee Graduate School of Medicine. They spend a portion of their time teaching medical students and resident physicians.
The physicians of Faculty Internal Medicine serve as teaching faculty for the inpatient hospital service at the University of Tennessee Medical Center. Our physicians spend up to thirteen weeks a year supervising residents in the hospital. They may also oversee student physicians and residents in the office.
As a "teaching hospitalist", the faculty see patients who have been admitted to the hospital to receive inpatient treatment and testing and also see patients admitted by other specialties who request Internal Medicine consultation. The faculty works closely with resident physicians and medical students from the University of Tennessee, Memphis and other area professional schools.
Judith D. Kinzy, MD
Jessica M. Ivey, MD
Amy L. Barnett, MD
Kim R. Emmett, MD
Crystal L. Gue, MD
Nathaniel Piel, MD
Zachary Marlette, MD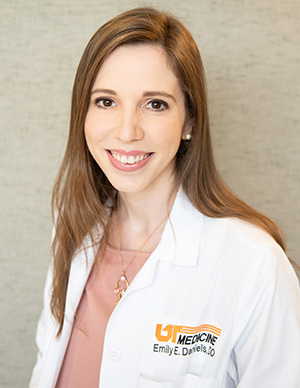 Emily Daniels, DO
Amanda Blevins, NP
Laura A. Mathis, FNP-BC